Using SMS Surveys to minimise disruptions and boost engagement
About Research First
Research First is a market research company in New Zealand. Their mission is to create New Zealand's most useful and user-friendly research insights by turning data and other kinds of market intelligence into meaning.
Understanding how people think and behave is at the heart of what they do, and they do that by conducting different types of surveys via phone calls, online or face to face.
Research First has a new research project about people's reading habits. The research involves ongoing surveys that span over a couple of days to capture respondents' behaviours during different times of the day. Normally this kind of survey is done via email which link to an online survey for respondents to provide their feedback. But Research First wanted to do this differently. As the nature of the survey is to capture people in the moment, instancy and ease of completion are crucial for this project, while minimising disruptions as much as possible. SMS came to their mind.
The benefits of using SMS Surveys
In previous projects, SMS was used mainly to increase the response rate. When the recipients of the survey are under 30, SMS was often used in conjunction with email to deliver online surveys due to the fact that most of them do not have a landline, making surveys via phone call impossible. This technique has boosted the response rate by as much as 50%.
This time, however, SMS Surveys are used because of its instancy and ease of completion. As the purpose of the survey is to capture people at the heat of the moment, it is important that they are able to provide a response right away, without interrupting their lives too much, and SMS is the perfect tool.
While online surveys are ideal for more complex questions, often the engagement drops with the length and complexity of the survey. With SMS, the questions need to be simple and direct. On one hand it forces the researchers to really drill down to what they really want to know; the shorter questions often boost engagement too.
---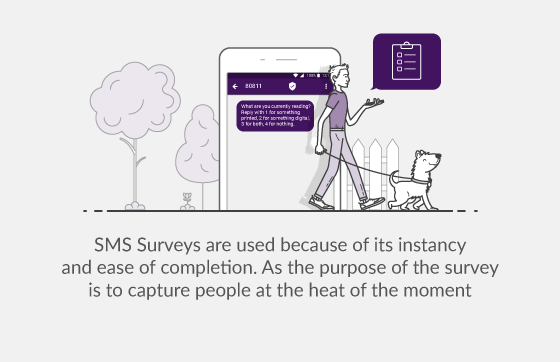 ---
How did Esendex Help?
Unlike most of the 2 way SMS systems available in New Zealand, the Esendex SMS system has a built-in feature that enables replies to go to the account who last sent the SMS; as such, no keyword is required, making it a much better and simpler solution for SMS Surveys. Our branched surveys enable different questions to be triggered according to the respondents' answers, allowing the survey questions to delve deeper, and at the same time making it a more interactive experience for the respondents.
If the respondents' answers do not fit in the predefined answers, follow up questions can be sent to ask for clarifications so the survey can be continued.
Why Choose Esendex?
"The main reason we chose Esendex is because they are one of the first companies that were able to provide 2 way SMS communications the way we want it after we spent weeks dealing with our local telco providers and searching for a solution.
And so it was refreshing to receive the level of customer service they provide for a change, particularly how responsive they are. Anything we ask for has a turnaround time of days instead of weeks like our local telco; matters always got resolved, with follow up calls from our account manager to ensure that we have no further issues.
Gareth Heta - Data Analyst - Research First